Ptolemy's Model of the Orbital Motion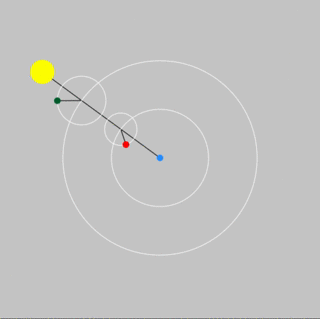 This applet is a slightly simplified representation of Ptolemy's mode for the motion of the inner planets. From our modern perspective, the planets do not go in perfect circles around the Sun. If they did, our simplified Ptolemy model of uniform circular motion around an epicycle which is itself precessing uniformly would represent exactly the motion of the planet through the heavens. In fact, this is very close to the truth: the true orbits are ellipses, but very close to circular. Ptolemy's model had to be refined with small extra epicycles, or not quite uniform circular motion.
Here we just want to emphasize the main point: how this simple model can successfully account for the motion of the planets in the heavens to a very good approximation, but keeps the Earth itself at rest.
Point to notice: Venus and Mercury never get very far from the Sun in the sky. Think about how that works in the modern picture.